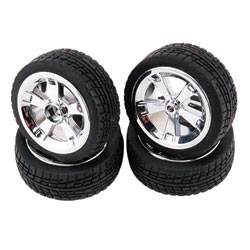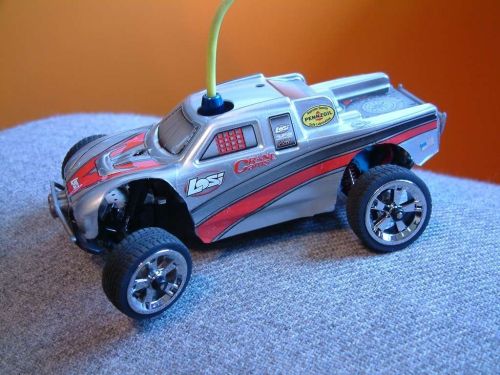 Product Info:
-Four premounted, solid rubber tires with cool on-road treads
-Chrome 22mm 5-spoke stylized wheels
-Four micro E-clips
-Bolts directly onto any Losi micro-sized vehicle
Model/Part Name:
Losi Micro 22's On-Road Tire Set
Product #:
LOSB1575
Company:
Losi
Price:
$7.99
Tools Needed:
Hobby Knife, Plires, or a wheel nut wrench
Ratings:
(1-5, with 1 being poor, 5 being great)
Quality:
5
Assembly Ease:
3 (if you still use e-clips) 5 (if you've goten threaded axles(if you haven't, do get them!))
Performance:
Overall a 4.5
Price:
5
Member's Short Review:
I love the bling Factors that the rims add to the car, it give it a totally different look (now all we need is a hummer body right) The tire set is a solid band of rubber, there are no foam inserts. This means that they provide great side grip on certain surfaces because there in no side wall flex, and the tires can't fold over. Here's my test results:
Concrete(not a garage): These tires hook up excellently here! Some of the best tires for this surface, i couldn't kick the rear out! It was stuck! :cool:
Tile and lenolium (clean): Great traction, this is where these tire exell!!! Just make sure the surface is clen, not dirty!
Carpet: Like most of the other tire, great traction here!
dirt: Good traction on a hard packed surface, but loose dirt is this set of tires enemy!
Asphalt: Sealed parking lots give these tires a place to grip, and grip well!!! The rocky asphat in front of your house is another story! Theres tires have no foam, so all the terrain is forced to the shocks, wich will suck if you have the non-modded stockers!
Overall, i like these tires! i will give a qucik review of the traction on rcp track in the winter! i will definatly have these with me in my tire arsenel!